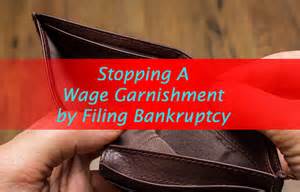 Will Filing for Bankruptcy Stop a Wage Garnishment?
The short answer to the questions is: yes. Filing for bankruptcy will stop all types of collection actions, including a wage garnishment. Not only that, but filing for bankruptcy will also stop creditors from calling you, calling your work, sending you threatening correspondence in the mail, and it will even stop a home foreclosure.
Typically, a wage garnishment order occurs after a person has lost a lawsuit and there is a judgment against them. Please note that there are certain instances where you don't even need to lose a lawsuit before a judge can issue an order to garnish wages.  The following four situations don't require the lawsuit: defaulting on student loans, unpaid income taxes, and falling behind in child support or being ordered to pay child support.
In California, the limit that a creditor can take out of your paycheck is 25% of your net income or the income you receive after taxes. That's why a wage garnishment can be so devastating; it can cause people to fall behind with other bills or leave people with very little leftover to pay for life's essentials.
Filing for bankruptcy will stop a wage garnishment and can eliminate the underlying debt completely.
Find out more about a Bankruptcy Attorney in Los Angeles that can help.